Varsity GBB Halftime: Gators lead Stanton 13-7

Activities for Thursday, December 20 - JV, Varsity Boys and Girls Basketball vs. Stanton (Home) 5:00 PM

Wisner-Pilger Jr.-Sr. High School Bulletin for Thursday, December 20, 2018 Happy Birthday today to... Jorge Soto! ________________________________________ Band and Choir Students and Parents... Music Boosters have concession stand on Saturday, January 5th for the Wisner-Pilger wrestling tournament. We will need 2 parent sponsors per shift. Shift 1 (9:15 - 12:15), Shift 2 (12:15 - 3:15), and Shift 3 (3:15 - 6:30). Parents may contact the high school office or Mr. Dennis. Band and Choir Students, please either sign up in the office or with Mr. Dennis. ________________________________________ Juniors... Junior requirements for prom are still needed from the following students Titus Bales, Landon Beaver, Jaden Berlin, Ian Breitkreutz, Makenzi Brown, Mason Dimon, Lewis Dorris, Zoilo Flores, Shelby Gaunt, Adam Good, Christian Good, Cole Hawk, Colby Heller, Cole Jacobsen, Karrin Jindra, Chela Lauck, Erin McGuire, Kaleb Meyer, Rachel Otten, Justin Pieper, Caleb Rehak, Jessica Svoboda, and Wellinton Vasquez. Reminder: if you do not meet these requirements, a due of $50 will need to be paid before attending prom. Check in with the high school office if you have questions about the requirements. ________________________________________ Junior Opportunity... Concession stand sign-up for Friday, December 28th is in the office. This will meet one of the requirements for prom. Sign up before leaving school on Friday. ________________________________________ Hey Gator Fans... It's Ugly Sweater Time!!! Get out your ugly sweaters and wear them to tonight's Home Basketball game against Stanton!! The sports boosters will be giving out prizes for all ages and different categories. ________________________________________ NSAA Moratorium Reminder... the NSAA Moratorium will be December 22, 23, 24, 25, & 26th. School facilities, including the weight room, are off limits to 9th thru 12th grade students that participate in an NSAA activity. If you have questions, please see Mr. Ross. ________________________________________ Track girls will run the concession stand Dec. 20th. Please sign up in Mrs. Plagge's room for a time to work. Thank you!! ________________________________________ 8th grade overdue library books... Renew, return, or pay the replacement price for overdue library books: Gauge B. ($15) Ashlyn L. ($31 - 2 books), Brad M. ($18), Laura R. ($18), Kyle R. (15), McKenna S. ($37 - 3 books), and Blake S. ($14.50). ________________________________________ VOLLEYBALL PLAYERS: We have concessions on Tuesday, January 8. Parent and player volunteers are needed for each shift. Sign up in the office. Thank you. ________________________________________ Juniors... Please vote for the prom theme by the end of the day TODAY. A google form has been emailed to your igator account. ________________________________________ The following 9th grade students have overdue books... please stop by the library and either renew, return, or pay the price of a replacement book: Alan M. ($26), and William S. ($10). ________________________________________ A Group is needed to run the concession stand on December 29th. Please See Mr. Ross if you are interested. Thank You! ________________________________________ Parents... As the 1st Semester Comes to a close we would appreciate all lunch bills being paid to a positive balance. Thank You:-) ________________________________________ Please return any library books that you are not currently reading as other students are often waiting on these books. Thank you. National Honor Society Reading Lab for this Week... Friday - Claire R. & Jayden R. *January NHS readers: Monday - Alecia K., Tuesday - Veronica P., Wednesday - Jayden R., Thursday - reader needed, and Friday - Lexi P. Thursday *5pm-JV, Var Girls, Boys Basketball vs Stanton (Home) (Girls JV will play 2 quarters with a halftime break after the first quarter in the north gym starting at 5:00. The varsity girls game may start at 5:45 at the earliest.) Friday *12pm - Early Dismissal-End of Second Semester *JV Wrestling Tourney

Activities for Wednesday, December 19 - Juniors @ NECC Career Class (During School)

Wisner-Pilger Jr.-Sr. High School Bulletin for Wednesday, December 19, 2018 Happy Birthday today to William McNutt! ________________________________________ Band and Choir Students and Parents... Music Boosters have concession stand on Saturday, January 5th for the Wisner-Pilger wrestling tournament. We will need 2 parent sponsors per shift. Shift 1 (9:15 - 12:15), Shift 2 (12:15 - 3:15), and Shift 3 (3:15 - 6:30). Parents may contact the high school office or Mr. Dennis. Band and Choir Students, please either sign up in the office or with Mr. Dennis. ________________________________________ Juniors... Junior requirements for prom are still needed from the following students Titus Bales, Landon Beaver, Jaden Berlin, Ian Breitkreutz, Makenzi Brown, Mason Dimon, Lewis Dorris, Zoilo Flores, Shelby Gaunt, Adam Good, Christian Good, Cole Hawk, Colby Heller, Cole Jacobsen, Karrin Jindra, Chela Lauck, Erin McGuire, Kaleb Meyer, Rachel Otten, Justin Pieper, Caleb Rehak, Jessica Svoboda, and Wellinton Vasquez. Reminder: if you do not meet these requirements, a due of $50 will need to be paid before attending prom. Check in with the high school office if you have questions about the requirements. ________________________________________ Junior Opportunity... Concession stand sign-up for Friday, December 28th is in the office. This will meet one of the requirements for prom. Sign up before leaving school on Friday. ________________________________________ Hey Gator Fans... It's Ugly Sweater Time!!! Get out your ugly sweaters and wear them to the Thursday Night Home Basketball game against Stanton!! The sports boosters will be giving out prizes for all ages and different categories. ________________________________________ NSAA Moratorium Reminder... the NSAA Moratorium will be December 22, 23, 24, 25, & 26th. School facilities, including the weight room, are off limits to 9th thru 12th grade students that participate in an NSAA activity. If you have questions, please see Mr. Ross. ________________________________________ Track girls will run the concession stand Dec. 20th. Please sign up in Mrs. Plagge's room for a time to work. Thank you!! ________________________________________ 8th grade overdue library books... Renew, return, or pay the replacement price for overdue library books: Gauge B. ($15) Ashlyn L. ($31 - 2 books), Brad M. ($18), Laura R. ($18), Kyle R. (15), McKenna S. ($37 - 3 books), and Blake S. ($14.50). ________________________________________ VOLLEYBALL PLAYERS: We have concessions on Tuesday, January 8. Parent and player volunteers are needed for each shift. Sign up in the office. Thank you. ________________________________________ Juniors... Please vote for the prom theme by the end of the day on Thursday, December 20th. A google form has been emailed to your igator account. ________________________________________ The following 9th grade students have overdue books... please stop by the library and either renew, return, or pay the price of a replacement book: Alan M. ($26), and William S. ($10). ________________________________________ Sophomores... Renew, Return, or pay the replacement price for the following overdue books: Cesar M. ($11.00), Bryce M. ($10), Shelbie H. ($17), and Nathan H. ($12). ________________________________________ A Group is needed to run the concession stand on December 29th. Please See Mr. Ross if you are interested. Thank You! ________________________________________ Parents... As the 1st Semester Comes to a close we would appreciate all lunch bills being paid to a positive balance. Thank You:-) ________________________________________ ST. JOSEPH'S RELIGIOUS EDUCATION 7TH-12TH GRADES Bowling party at Wisner Lanes this Wednesday, December 19th at 7:00p.m. Please come directly to Wisner Lanes and bring money for food. Church will pay for the bowling. ________________________________________ The following Juniors need to turn in their money for window clings... Landon Beaver, Jaden Berlin, Lewis Dorris, Zoilo Flores, Adam Good, Christian Good, and Caleb Rehak. ________________________________________ Please return any library books that you are not currently reading as other students are often waiting on these books. Thank you. ________________________________________ National Honor Society Reading Lab for this Week... Thursday - Colby H. & Calby R., Friday - Claire R. & Jayden R. *January NHS readers: Monday - Alecia K., Tuesday - Veronica P., Wednesday - Jayden R., Thursday - reader needed, and Friday - Lexi P. ________________________________________ Wednesday *Juniors @ NECC Career Class ________________________________________ Thursday *5pm-JV, Var Girls, Boys Basketball vs Stanton (Home)

Activities for Tuesday, December 18 - Juniors @ NECC Career Class (During School) - JV, Varsity Girls and Boys Basketball @ Arlington 4:30 PM

Wisner-Pilger Jr.-Sr. High School Bulletin for Tuesday, December 18, 2018 Happy Birthday today to... Adison Meyer! ________________________________________ A Group is needed to run the concession stand on December 29th. Please See Mr. Ross if you are interested. Thank You! ________________________________________ Hey Gator Fans... It's Ugly Sweater Time!!! Get out your ugly sweaters and wear them to the Thursday Night Home Basketball game against Stanton!! The sports boosters will be giving out prizes for all ages and different categories. ________________________________________ Wisner-Pilger Football Honors... *All-District D1-4: Jayden Raabe - Sr. - FB/DL, Jacob Borgelt - Sr. - OL/DL, Colby Heller - Jr. - TE/OLB, Trevor Styskal - Jr. - QB/DB, Honorable Mention D1-4: Gavin Lampman - Jr. - RB/DB, Mason Dimon - Jr. - LB, Dylan Kneifl - Jr. - TE/OLB Justin Pieper - Jr. - RB/DB. *Norfolk All Area - Honorable Mention - Jayden Raabe and Jacob Borgelt *Omaha World Herald - Honorable Mention Jayden Raabe, Jacob Borgelt, and Colby Heller *Lincoln Journal Star - Honorable Mention Jayden Raabe and Jacob Borgelt *Huskerland D-1 All-State Team Jayden Raabe - Defensive Line ________________________________________ Track girls will run the concession stand Dec. 20th. Please sign up in Mrs. Plagge's room for a time to work. Thank you!! ________________________________________ 8th grade overdue library books... Renew, return, or pay the replacement price for overdue library books: Ashlyn L. ($31 - 2 books), Brad M. ($18), Laura R. ($18), Kyle R. (15), Maggie S. ($14.50), McKenna S. ($37 - 3 books), Blake S. ($14.50), and Brittany W. ($10). ________________________________________ VOLLEYBALL PLAYERS: We have concessions on Tuesday, January 8. Parent and player volunteers are needed for each shift. Sign up in the office. Thank you. ________________________________________ Juniors... Please vote for the prom theme by the end of the day on Thursday, December 20th. A google form has been emailed to your igator account. ________________________________________ Juniors and Junior Parents... Please sign up for the concession stand and window decal table shifts for Friday, December 28th (Holiday Tournament). Shifts are 1:30-4:00, 4:00-6:30, and 6:30-9:00. Each shift needs two parents, three juniors, and two people for the window decal table. ________________________________________ The following 9th grade students have overdue books... please stop by the library and either renew, return, or pay the price of a replacement book: Gauge B. ($15), Alan M. ($26), Kayla S. ($10), William S. ($10). ________________________________________ Sophomores... Renew, Return, or pay the replacement price for the following overdue books: Cesar M. ($11.00), Bryce M. ($10), Shelbie H. ($17), Nathan H. ($12), and Tyler K. ($9). ________________________________________ Parents... As the 1st Semester Comes to a close we would appreciate all lunch bills being paid to a positive balance. Thank You:-) ________________________________________ ST. JOSEPH'S RELIGIOUS EDUCATION 7TH-12TH GRADES Bowling party at Wisner Lanes this Wednesday, December 19th at 7:00p.m. Please come directly to Wisner Lanes and bring money for food. Church will pay for the bowling. ________________________________________ The following Juniors need to turn in their money for window clings... Landon Beaver, Jaden Berlin, Lewis Dorris, Zoilo Flores, Adam Good, Christian Good, and Caleb Rehak. ________________________________________ Please return any library books that you are not currently reading as other students are often waiting on these books. Thank you. ________________________________________ National Honor Society Reading Lab for this Week... Wednesday - Becca T., Thursday - Colby H. & Calby R., Friday - Claire R. & Jayden R. *January NHS readers: Monday - Alecia K., Tuesday - Veronica P., Wednesday - Jayden R., Thursday - reader needed, and Friday - Lexi P. ________________________________________ Tuesday *Juniors @ NECC Career Class *4:30pm JV, Var Girls, Boys Basketball @ Arlington (Girls JV will play 3 quarters) ________________________________________ Wednesday *Juniors @ NECC Career Class

Winter Choir Concert - Exciting, unique performances! Great job everyone.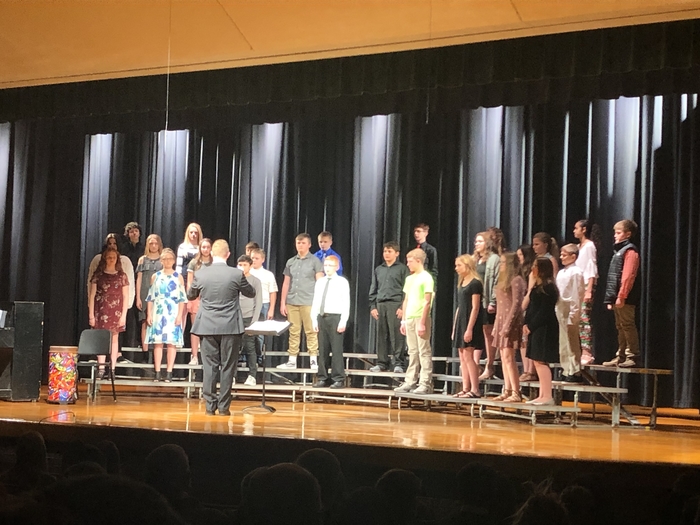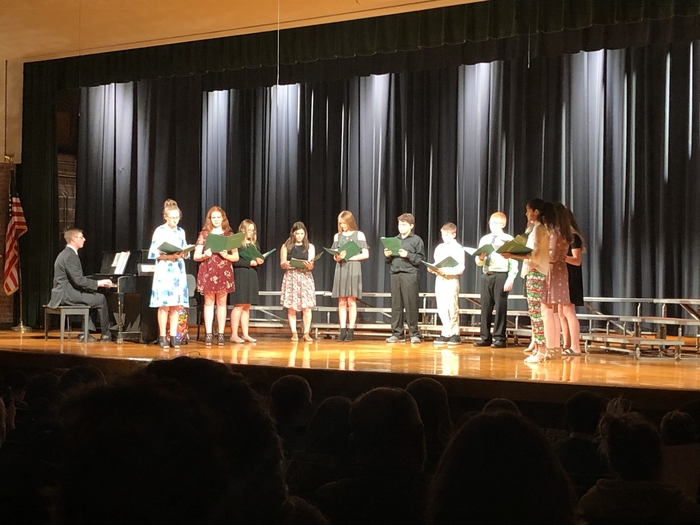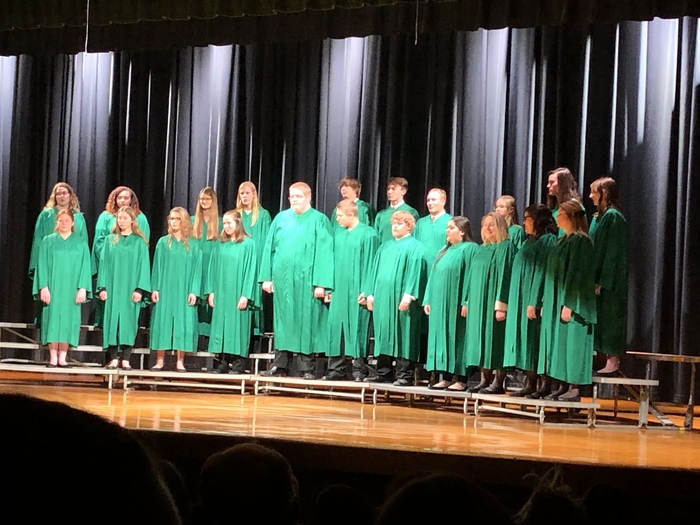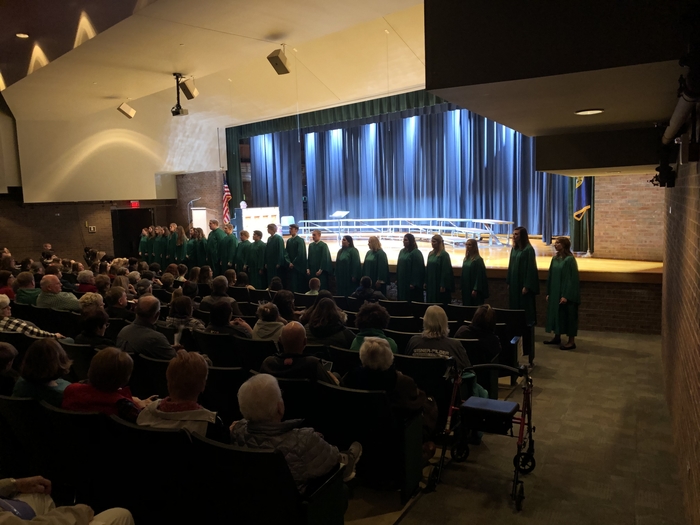 Activities for Monday, December 17 - Jr/Sr High School Choir Concert 7:00 PM

Activities for Saturday, December 15 - C-Team Girls and Boys Basketball @ Stanton 9:00 AM - Junior High Boys Basketball @ Ponca Tournament 9:00 AM - Wrestling Tournament @ Wayne 9:00 AM

Varsity BBB Final: Gators fall to Wayne in the final game of the evening. Both Varsity teams back in action next Tuesday at Arlington.

Varsity BBB Halftime: Wayne 29 - Gators 21

Varsity GBB Final: Gators drop a hard fought overtime game to Wayne, 50-44.

Varsity GBB: Gators and Blue Devils tied at 42 at the end of regulation. Overtime on the way!

Varsity GBB Halftime: Wayne 26 - Gators 23

Activities for Friday, December 14 - Early Dismissal/Teacher In-Service - JV, Varsity Boys and Girls Basketball vs. Wayne (Home) 5:00

Wisner-Pilger Jr.-Sr. High School Bulletin for Friday, December 14, 2018 Happy Birthday on Sunday to... Trinity Bales! ________________________________________ It is the Season of giving!! We have collected 52 food items from only 5 people. Please bring at least one item so we can reach the 200 item goal. Drop food off by Mrs. Kreikemeier's office all this week. ________________________________________ A Group is needed to run the concession stand on December 29th. Please See Mr. Ross if you are interested. Thank You! ________________________________________ Junior High Boys Basketball in Ponca Saturday, December 15th...there will be no 'B' division, but Ponca will play Wisner-Pilger in a 'B' game at 9:00am. The 'A' division of the tournament will begin at 10:00am. ________________________________________ Juniors... The Career Class will be next Tuesday and Wednesday all day in Norfolk. Please wear warm clothing for the tour. Also you need to be present both days. If you have any questions, please let Mrs. Kreikemeier know. ________________________________________ Speech Team Members... sign up for next week's practice times! Drama groups and duets - set up practice times as well!! ________________________________________ The following 7th grade student has an overdue library book: Danika A ($17). Please stop by the library and either return, renew, or pay the replacement price of the book(s). ________________________________________ Students: Please make 2nd semester schedule changes before next Friday. Double check your schedules to make sure a class is listed for all 8 class periods. ________________________________________ Juniors and Junior Parents... Please sign up for the concession stand and window decal table shifts for Friday, December 28th (Holiday Tournament). Shifts are 1:30-4:00, 4:00-6:30, and 6:30-9:00. Each shift needs two parents, three juniors, and two people for the window decal table. ________________________________________ Track girls will run the concession stand Dec. 20th. Please sign up in Mrs. Plagge's room for a time to work. Thank you!! ________________________________________ The following 9th grade students have overdue books... please stop by the library and either renew, return, or pay the price of a replacement book: Zack A. ($11), Gauge B. ($15), Shelby B. ($12), Cohen B. ($12.50), Gwen D. ($10) ________________________________________ Lost and Found If you are missing something... look for it in the lost and found by the front office! New items added daily! ________________________________________ Sophomores... Renew, Return, or pay the replacement price for the following overdue books: Liberty D. ($15), Cesar M. ($11.00), Macy S. ($16), Bryce M. ($10), Shelbie H. ($17), Nathan H. ($12), and Tyler K. ($9). ________________________________________ 8th grade overdue library books... Renew, return, or pay the replacement price for overdue library books: Addisyn A. ($17), Reece D. ($11.50), Jaleigh ($26.50 - 2 books)), Olivia K. ($15.50), Ashlyn L. ($31 - 2 books), Alexia M. ($15.50)., Brad M. ($18), Laura R. ($18), Kyle R. (15), Maggie S. ($14.50), McKenna S. ($37 - 3 books), Blake S. ($14.50), Tyler W. ($17), and Brittany W. ($10). ________________________________________ The following Juniors need to turn in their money for window clings... Landon Beaver, Jaden Berlin, Lewis Dorris, Zoilo Flores, Adam Good, Christian Good, and Caleb Rehak. ________________________________________ National Honor Society Reading Lab for next Week... Monday - Jayden R. & Caden S., Tuesday - Emily H., Wednesday - Becca T., Thursday - Colby H. & Calby R., Friday - Claire R. & Jayden R. ________________________________________ Friday *2:30pm Early Dismissal/Teacher In-Service *5pm-JV, Var, G, B BB Wayne (Home) ________________________________________ Saturday *'C' G, B Basketball @ Stanton Tourney *'9am-Junior High Boys Basketball @ Ponca Tourney ('B' Team one game at 9am - 'A' Team Tourney to follow) *9am-Wrestling Tourney @ Wayne Monday *7pm-Junior High and High School Choir Concert

Varsity BBB Final: Gators 58 - Oakland-Craig 50 #wpgators

Varsity BBB Halftime: Gators 33 - Oakland-Craig 22

Varsity GBB Final: Oakland-Craig 54 - Gators 37