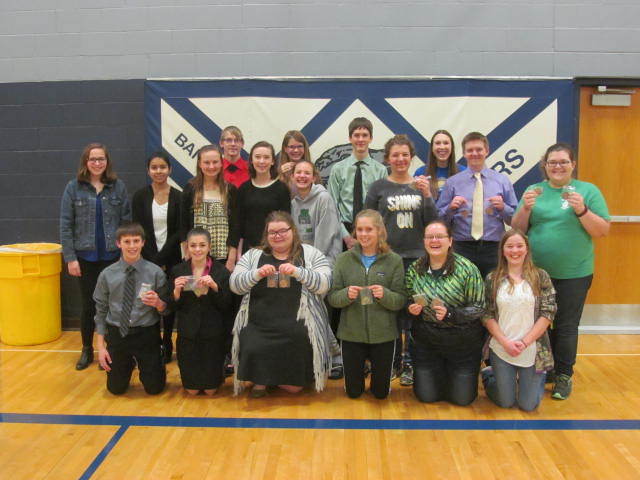 Gator Speech Team Earns Fifteen Finalists at Bancroft-Rosalie Inivte
Christopher Uttecht
Thursday, February 01, 2018
The Wisner-Pilger speech team earned fifteen finalists as well as two championships at the Bancroft-Rosalie invitational Saturday. Junior Veronica Peck led the Gator efforts with three medals, leading with her third informative championship this season along with runner-up silver medals in poetry and persuasive speaking. With the informative gold, Peck set a new school record with nineteen career championships, breaking the previous record of eighteen she shared with past Gator speech greats Luke Evans and Kristin Schlickbernd. "Veronica's had an amazing career, and she's got a long way to go," noted Gregg Moeller, Gator speech coach along with Kasey Alexander and student teacher Kristin Jindra. "She's leaving an amazing legacy, and she's barely half done."
The Gators' other championship effort came from the oral interpretation of drama team of Claire Raabe, Megan Schroeder and Becca Thompson, who took first with their interpretation of "Enter Three Witches". Jessica Svoboda took runner-up honors in informative speaking, while Thompson added a third place finish in persuasive speaking. Three other Gator speakers earned two final medals—Aleca Keller, third in entertainment and fifth in extemporaneous; Grace Steinmeyer, fourth in extemporaneous and fifth in informative; and Jaden Berlin, fourth in poetry and sixth in serious prose.
Other Gator medal winners included Brett Andersen, fifth in entertainment; Kaci Baier, Payton Biermann, James Kinnison and Rockney Peck, fifth in drama; and Audrey Glaubius, seventh in serious prose. Andersen and Kinnison just missed out on finals in humorous prose, as they tied for seventh place overall.
Other results from Saturday:
Entertainment: Claire Raabe, 8th; Kaci Baier, 11th
Persuasive: Megan Schroeder, 8th
Poetry: Anjelina Frederic, 10th; Tymarie Ott, 14th; Ruby Mares, 19th
No team scores were kept--other teams competing included host Bancroft-Rosalie, Fremont Bergan, Laurel-Concord-Coleridge, Leigh, Oakland-Craig, Pender, Ponca, Stanton, West Point-Beemer, and Winnebago.
The Gators finish the first half of their season Saturday at the Winside Invitational, which will be their toughest test, according to Moeller. "With the snow, our inexperience and other conflicts, we're still well behind other teams as far as being ready for a meet like Winside," Moeller said. "Winside features some of the strongest teams in the state, and we need to be at our best to be competitive."